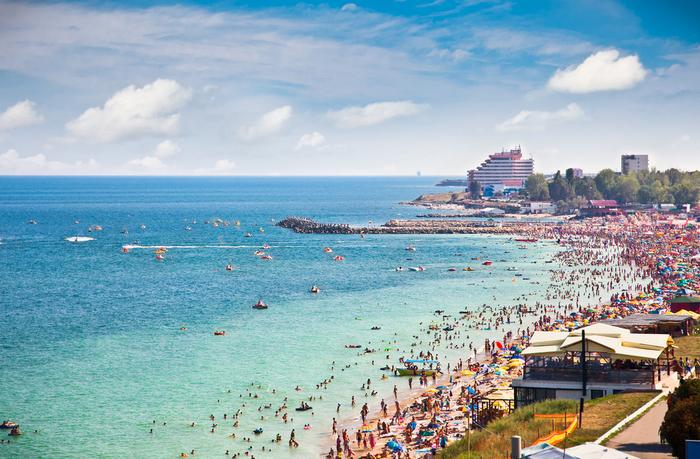 Every summer, Bulgarian Black Sea beaches compete with those of Romania to attract sun-hungry tourists.. In Burgas and Varna, when campsites and hotels are filled with guests, the atmosphere is like a carnival. Small towns like Nessebar are simply crammed with tourists. Fortunately, Tourist traffic is concentrated in several fashionable resorts such as Golden Sands, Saint Constantine (The best man) and Sunny Beach. On the other hand, along the 378-kilometer-long coast, it is relatively easy to break out of the crowd and find a clean stretch of golden beach for yourself.
The climate in this area is mild. In winter, the temperature rarely drops below 0 ° C. It's best to come here in summer. The average temperature is then 23 ° C, but the hot air is cooled by the sea breeze. All premises are open, restaurants put their tables on the sidewalks, the water in the sea is warm, you can move along the coast, using inexpensive bus connections. Off season, from mid-September to May, all centers are extinct.
Communication
Unfortunately, hydrofoil connections (Comet), formerly operating between Varna, Nesebyrem, Burgas and Sozopol were unable to withstand the economic changes taking place in Bulgaria and the 1993 r. have been suspended indefinitely.
Hydrofoil regularly (from mid-June to mid-September every day) Currently it runs only on the Varna-Golden Sands-Balchik route. The Nessebar-Sozopol route can also be traveled by boat.
The most convenient way to get to the coast from Sofia is by train, while on the coast it is best to travel only by buses. On the Burgas-Vama route (1 at) the bus runs every hour. There are many connections that serve shorter routes from north to south.